Monsoon or rainy season has just started with the starting of rainfall. This season has always been close to the heart to every person including poet, farmer, kid and specially to the ladies. Ladies always love the rains with greenery, clouds, rainbow, and the smell while its raining. This season is the life force of India's ornate culture and the love of every human being. This season is the awesome theme to have with the best season among all with all the members of kitty party. Monsoon kitty party theme is the best theme to have in the monsoon season.
Monsoon theme decoration for kitty party
Monsoon theme decoration will be like that gives the feeling of monsoon season and the rainfall. Decorate your hall with rainbow stickers, clouds, green leaves, rain drops on the wall, umbrella, theme badges, banner, Cham Cham posters, stick props, strings and some wrist bands for the friendship.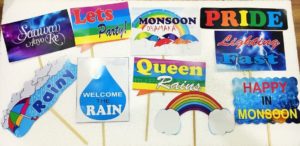 Monsoon party dresses should be colorful full of rainbow colors or either can be light blue for rain drops, green for green leaves and with minimum waterproof makeup for the rains.
Monsoon theme kitty party invitation
Monsoon theme kitty party invitation comes with monsoon theme whatsapp invites specially designed for monsoon kitty party theme which could be forwarded on WhatsApp to invite guests for the kitty party. With cute pictures and background related to monsoon it gives all the details related to the party like time, venue, name of the host which are customized accordingly. So, be a part of this techno-savvy world this monsoon season by inviting your guests through these monsoon theme kitty party invites to have more fun and make your monsoon theme kitty party a big success.
Monsoon theme kitty party games