Navratri is nine days festival of Hindus, which is celebrated in the honor of divine feminine Devi (Maa Durga). It is the post-monsoon autumn festival called sharada Navratri which is celebrated in the bright half of the Hindu calendar month Ashvin, which typically falls in the Gregorian months of September and October.
Navratri is starting from October 10 this year, and this is the time for excitement and celebration to have an interesting Navratri kitty party theme with our friends and the members of our kitty party.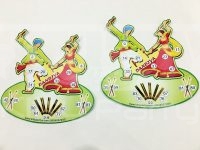 Kitty party decoration
Decorate your hall for Navratri kitty party decoration with flowers, diyas, candles, Rangoli, colorful dupattas over the hall, Maa Durga idol on the center of hall, colorful lights, string, mehndi cone, all Shringar items, bangles and light music related to the theme.
Dress code for the party will be any traditional Indian attire related to the theme.
Kitty party games