In the daily routine of life, each of one wish to back to childhood and have fun like some magic to happen. Magic like Aladdin ka Chirag in the Arabian nights of past times. Even now also, this magic can be celebrated in very fun way. For the celebration, to have an Arabian nights theme party with the members of kitty party is an awesome idea. Arabian nights theme party is a very fun and exotic theme to have with our kitty party members.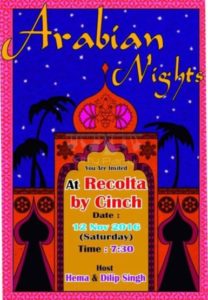 Arabian nights decorations and Dresscode
Arabian nights decorations should be like that will give the feeling to have some magic in the area. Decorate your hall with some Arabian nights party props, badges, center table decorations, snack sticks, string decorations, wrist bands, and some posters on the wall.
Arabian nights theme dress code will be turquoise blue theme. This may include a prince of Persia, a gypsy, a belly dancer, Lawrence of Arabia, a sultan, genie, a harem girl, sheik, crusader, sorceress, thief, snake charmer, a prince or princess, and king or queen with scarf in hands, big rings, and hair bands.
Arabian theme party invitation
Invites your guests for Arabian theme party invitation in a special way with Arabian Nights theme Whatsapp invites. These cool Whatsapp invites with a lovely picture related to the theme of Arabian Nights as well as Arabian Nights written in the background would include all the necessary details of your kitty party like the day, time and venue of your Arabian Nights theme kitty party.
Kitty party games for Arabian nights