When we are looking for something interesting to happen in hot chilling air of summers, to have a themed party with our friends is the best idea. If it comes to have a party with our friends, Tapori theme kitty party is the best thing to be done as friends are the ones with whom we can celebrate and act like the way we want.
Tapori theme party decoration and Dresscode
Decorate your hall for the Tapori theme party decoration with Tapori Bollywood movies posters, stick props, wall decoration, stings décor, pin wheels, banner, badges, pens, photo frame, wrist bands and themed center table decoration.
Tapori theme party dress will of Tapori like short capris, denims, caps, Tapori chains, torn t-shirts, scarf around the neck and much more.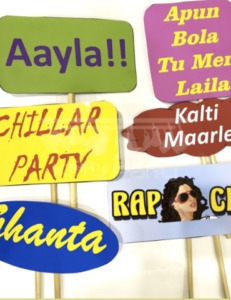 Tapori theme party invitation
Invite your friends for your Tapori theme kitty party in the form of these Whatsapp invites. These Tapori theme Whatsapp invites have a funky picture of a Tapori along with the details of the party like the date, time and venue of your Tapori theme kitty party written over them. These invites could be forwarded to the guests on their Whatsapp to invite them for your Tapori theme kitty party in a completely unique way.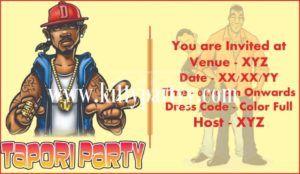 Tapori theme kitty party games