April Fools Day (sometimes called as All Fools' Day) is celebrated every year on the first day of April as a day when people play practical jokes. April Fools Day is celebrated by people who want to play pranks on friends, neighbors, teachers, family members and others.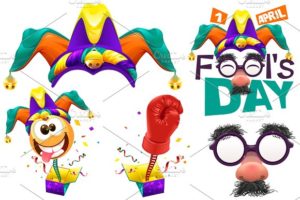 When it comes for kitty party theme in April month then the best idea to celebrate the day is to organize April fool theme for kitty party. Let's make the month of April a memorable month with kitty party.
Decoration and Dresscode for April fool's kitty party
For April Fool's party decorations, decorate the party hall with balloons or famous clowns and comedians. We can stick happy face balloons around the party room, can also hang some masks on the wall and can also keep plastic snakes, bugs and ratson table and floor.
Dress code for Aprill fool's kitty party for the ladies will be some funny clothes to wear that can create some humour in the party.
April Fool games for kitty party
Glue Coin game – For this game, stick as many coins on a cardboard or floor. This will a best April Fool's activities games. Put one coin unstick from them, and ask each of them to pick coin one by one. If the first picked coin is unglued, ask to pick another and to continue to maximun till one minute. But if the first picked coin is glued, second chance cannot be given. The member with the maximum number of coin will be the winner.
Chits game – For this game, make some chits and ask each member to pick one chit and to do the same written on the chit upper side(inside the chit April Fool is written). Upper side will be like:
Give the gift to lady in your right
Give the gift to lady in your left
Give the gift to lady in front of you
Give the gift to lady wearing red
Keep it baby
It's your gift darling
Now ask each member has a chit, ask them to open .This  will be the best April Fool games for kitty party to make fool of each member.
Mimic game – This is another chits game for the day April Fool's kitty party. Make some chits before the party like mime how you would give a bath or rub an Indian elephant. Ask them pick a chit, then they mime the actions as instructed in the chit. This activity is sure to generate enough laughs and get your guests in the party mood. The member with the best mimic gets entitled to a fun party favor.
Marble Sum game – Arrange some marbles and colourful beads and write random numbers from 0-9 on all beads. Take a big bowl and keep those beads and marbles in the bowl. Now ask ladies to play one by one and in one chance they need to grab as many beads as possible with one hand. Now take those beads and marbles in another bowl and count the beads numbers written on them. Lady with highest total number sum will be the winner of game.
April Fool Tambola – This is a must game for kitty party that will give win-win chance to every ladies to enjoy the day. To add fun to this game tambola tickets too are designed with jokers, famous clowns and balloons or with April fool jokes.