April, May, June, July, and August are the best months to enjoy pool and have pool party with our friends. Summers starts every year from the month of April and goes up to September but to have a pool party April to August are the best months to enjoy pool as these are hottest too. As we are talking about pool party and Kitty party themes, it will be awesome to have a Kitty pool party themes with our friends and the members of our kitty party. This idea will add fun and enjoyment to our party with some decoration, dress theme, dances, celebration and some games, which will give our day a very memorable.
Kitty party decorations
Pool party decorations for kitty party starts with fun and funky look. Give your area a pool look with like palm trees, towels on every chair, drinks and snacks on every table, Cover the pool surface with rubber ducks, balls and balloons, bottles of sunscreen on each table for the members to use, and bikinis on sides of pool for the members to wear.

For the dress for pool party themes, Carry a well-fitted bathing suit/bikini, a cover up or a sarong draped around your hips, shoes/sandals/flip flops, sunscreen, etc. Cover your head with a sun hat. It's feminine and good protection from the sun for your hair and face. If you don't like hats, comb your tresses into an easy summer style, such as a ponytail.
Kitty party games
1. Pool Tambola game – Kitty party never ends with tambola game. For tambola tickets have been designed with the best pool party games. These colorful printed tambola tickets are in the shape of a pool with little girl enjoying a splash in the water. The tambola numbers are divided into three sections over these tickets which could be treated as three separate dividends. Callouts will be like Splash in the water, Pool time is fun time, and Chapak Chapak.

2. Pool 2nd Tambola game – When kitty party is happening with Tambola game 2nd round is necessary and for this ticket have been designed with awesome pool party games. These fun printed tambola tickets are divided into five sections. Each section has a cool and fun picture related to a pool party printed along with a picture caption and tambola numbers. The tambola numbers are divided in such a way that four sections have four numbers each while the fifth section has one tambola number that could be treated as a separate dividend. Callouts will be like Pool time, Splash time, soak up the sun, and Staying cool.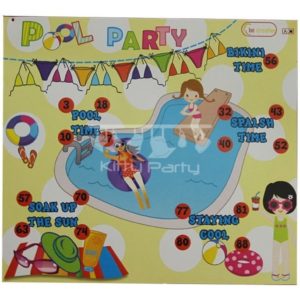 3. Treasure hunt – For this game, 2 teams have been made and some treasures have been distributed in the pool. 2 teams collect them and bring them to the "treasure chest" (bucket on the edge of the pool). The team with the maximum numbers of treasures will be the winner of the game. This is one of the best swimming pool games.
4. Greasy Watermelon – This is an awesome game to play in the pool. Divide the members into two teams and have them each wait on one side of the pool. Then you throw a greased-up watermelon (Use a lot of petroleum jelly to get it real slick) into the middle of the pool. The players then rush to retrieve the melon and touch it to their side of the pool earning their team a point! Play till one team scores 10 points. This is one the best water pool games.
5. Dance game – This is one of the best game for pool party. For this game, a contest can be organized, members will be judged for the best moves on the song. The member with the best moves among all will be the winner of the game. This is one of the fun pool party games.